Moderator: Staffers
Crack Addic!
Posts: 190
Joined: July 21st, 2008, 9:54 am
Location: Throne of Heroes
yo, how can i get the cg i'm missing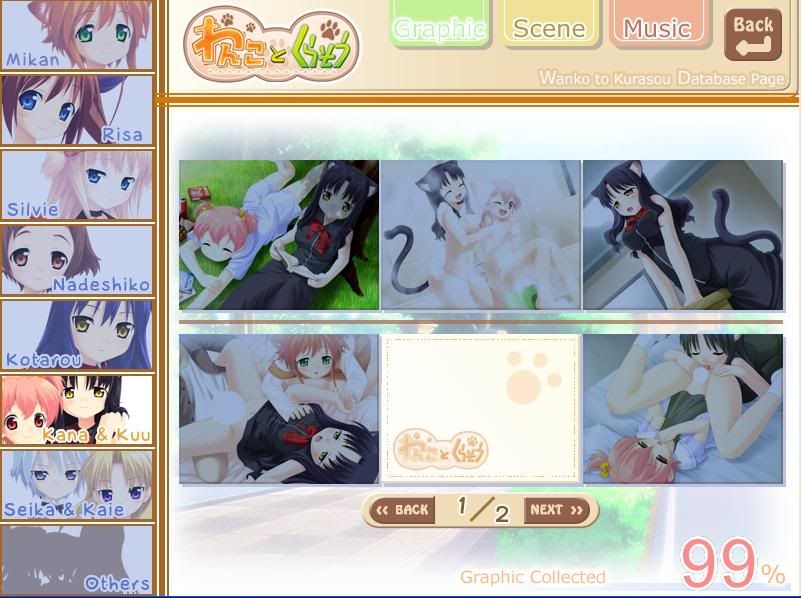 ty
---
---
Crack Addic!
Posts: 190
Joined: July 21st, 2008, 9:54 am
Location: Throne of Heroes
---
I'm gonna be using your topic, hoennsquall.

how do I get the third CG in that list?
"I wouldst call thee foolish...But thou art mortal. Thou cannot go against thy nature, no more than a fish could walketh upon the firmament"
~Fou-Lu
---
Crack Addic!
Posts: 239
Joined: August 17th, 2007, 5:12 pm
Location: The Strong and Free Giant Block of Ice in the True North
there's a walkthrough topic in this chat, it gives ALL cg's, so just follow what that says and you should hit it soon.
Whenever I go on, everyone leaves the Tsukihime forums. 'Cause I just fail like that.
---
Posting more than n00bs
Posts: 19
Joined: February 10th, 2005, 7:48 pm
The walkthrough is good, but... as long as we have this topic I may as well ask. Can someone tell me how to get the Mikan Hscene and CG I'm missing? It's the scene that gives you the first CG on Mikan page 3/4.
---