hi!
for begining, i want to congratulate you for translations of Fate Stay Night and Tsukihime, you did a great work.
we are an spanish group that are studyng the possibilitie of translating the Fate Stay Night game.
I have a problem editing tlg images in Fate Stay nights that uses kirikiri engine. I can convert .tlg images in 24 bits bmp's ones with susie 347b with the .tlg plugin.
Later, made the changes in the image(from 24 bits to 32 and defining alpha channel), I convert again the .bmp with TVP(kirikiri) graphic converter included in Kiri Kiri 2.29 KDE pack to tlg5 and i add it to the .xp3 file where i extracted it.
The problem is that the game doesn't recognize the image when it have to use it and displays the following message: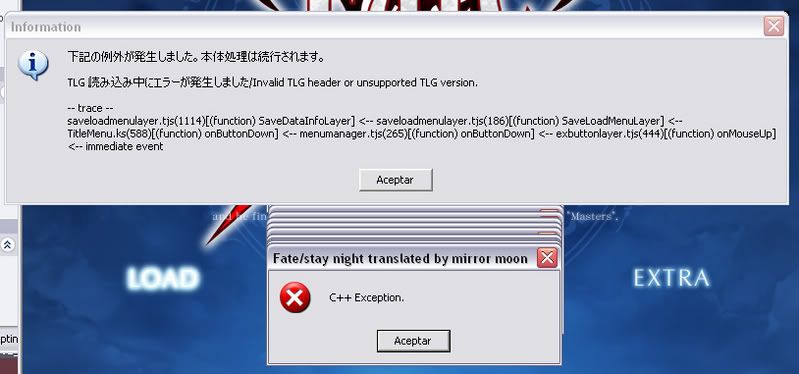 I think the cause could be:
-I don't set properly the settings in kiriki graphic converter(is in japanese and I don't understand it
( )
-Maybe the image lost some specific information when is translated wich without it doesn't work in the game( i read something about needed tags in TLG images, but there was in japanese and i didn't understand it at all).
-Maybe there there is a problem with the alpha channel or the color depth (it seems that TLG is a special .bmp image with 32 bits of color depth and an alpha channel)
I have used xp3-tools by insani, in which readme file the author says that for image editing exists some beta tools...anybody know anything?
Thank you and sorry for my english
)